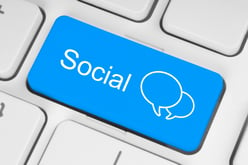 In 2017, there were approximately 2.46 billion social media users. In 2019, the number of social media users has jumped to an estimated 2.77 billion. In other words, since their inception social media platforms have shown no signs of slowing down. In fact, their continued growth is one of the reasons that so many businesses have turned to social media as the new, more efficient way to find leads and prospects.
5 Tips To Social Selling
Social selling is a great way to not only help you find new leads and prospects, but to also nurture your relationships. With the following five tips, you can help to create strong relationships that result in increased sales.
Tip #1. Create helpful and thought-provoking content.
Social media platforms are a fantastic way to connect with your leads and prospects. However, in order to connect with a vast audience, you must create content that is both helpful and thought-provoking for your target market. In this vein, it is important to remember the following golden rule of social media, "your customers, prospects, and general audience members follow you because of your content." If your content isn't helpful or thought-provoking, then you will a) never grow your number of followers, and b) lose disinterested followers.
Whether you are posting your own content, sharing content, or encouraging your followers to post their own content on your profile pages, you should keep the following quality rules in mind.
High quality social media content will help your target audience solve pain points.
You can and should post a wide variety of content, including: text, images, videos, GIFs, and even applicable memes.
News aggregators and content curation tools can help you to keep a pulse on the latest trends (and news) within your industry.
Tip #2. Social posts should never be a commercial.
Social media posts should never be all about you, your business, your brand, your services, and your products. (Phew that was a lot of "yours" in that last sentence). To be clear, your social media profiles should never turn into a commercial. In case you want to disagree, let's take a moment to explore our very own lessons learned on social media promotions.
Our Twitter account recently went from 1,800 followers with limited engagement to 1,000 followers. This dramatic drop occurred over the course of six months. Why? One simple reason ... every post had turned into a promotion for our company, brand, and services. The good news was that this experience gave us a great opportunity to implement social media lessons learned. Thanks to the following tips we have organically re-grown our number of followers, and discovered an audience that is actively engaging with our posts.
We use our posts to show more of our brand's personality. For example, there is a recent video that showcases a client.
We only create one promotional post out of every five tweets.
We post about life (after all, your clients have lives too, they don't want to see their Twitter feed cluttered with not so subtly 120 character advertisements).
We interact with our followers.
We share their content via retweets.
We focus on industry trending topics rather than solely talking about who we are and what we can do for your business.
We put our followers first and our needs second.
Tip #3. Never harass connections.
This third tip shouldn't have to be shared, but unfortunately far too many businesses take social selling one step too far. You should never make a LinkedIn connection and immediately try selling the person a product, schedule a meeting, or otherwise force them to interact with your company. The latter actions are not social selling, they are social harassment! Instead, you should implement the following tactics when you do connect with new leads or prospects.
Give your new connection the time they need to examine your professional or business profile.
Interact with your lead in the same way that you want to be treated. In other words, don't bombard them with communications from day one; take the time needed to build a meaningful relationship.
Engage with your new connection's posts using the like, share, or comment features.
Suggest content that your new connection might appreciate and enjoy. Make sure that suggested content doesn't come solely from your company's blog posts.
Tip #4. Engage with your followers' content. Social selling can and should be about spreading the love. Take the time to engage with your followers. Like their posts, retweet their tweets, and even post their testimonials. In fact, there is no better testimonial than when your followers will actively endorse your business, services, or products on social media. Consumers love to read and watch reviews that are given by real customers. Through consumer generated content you can not only spread the love, but you can show your followers (and customers) just how much you appreciate their support.
Tip #5. Connect to every target account you want to pursue in the next 12 months.
As a general rule of thumb, you should be socially connected to every target account that you are planning to pursue in the next 12 months. In this vein, you don't have to connect with your target on every single social media platform. Instead, you should connect with targets based on the platforms that they use the most. The key to social selling is to:
A) identify where your target audience is active;
B) engage with your target audience on that platform;
C) craft messages that your target audience will respond to; and
D) build meaningful relationships that result in increased sales.
The Bottom Line: Use Social Media To Your Advantage
In conclusion, don't forget that social media is a two-way street. When you spread the love and show appreciation for your leads, prospects, and customers, they are more likely to become loyal brand ambassadors who are willing to endorse your business. Through the above five tips you can and will be able to successfully implement social selling best practices.