This past week I was fortunate to be able to participate in the National Print Owners Association annual conference. We set up our booth and shared our newest service offering, Sales In A Box.
Being able to meet so many prospects in one place was an absolute dream. These were all owners of a small to mid-sized print business. Obviously, this is why we wanted to sponsor this event and present our new service.
After some market research and a successful engagement with another printer, we knew we needed to take advantage of this opportunity. As a small business, we had to decide if this was something that we wanted to pursue and invest in. After all, we only had one successful engagement under our belt so far in this industry.
So here's how we ended up in Ft. Lauderdale for 2 days at the NPOA Conference. I worked closely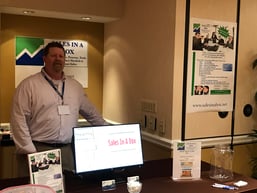 with the President of the printing company where we have successfully implemented Sales In A Box, we have fine-tuned it for his business. We worked on his sales process (and other sales issues) over the last 9 months. And believe me when I say, it took us a solid 9 months to work through this, not just because I'm a perfectionist, but their sales problems were that bad.
After getting this service working like a well-oiled machine, I quickly realized I needed to replicate this for others. It came to me, how do I increase the efficiency of my sales? I'm starting to answer the ongoing question of how to get more leads for my sales team! This is when we began to do our market research. We looked at the print industry and the sales problems that they were having. Were they all having similar issues? Could our service help solve problems for more than just my existing client? Can we replicate and scale it in a profitable way? These were all questions that I needed to know the answer to before we would be willing to invest our sales efforts in this industry.
We quickly learned that the small printers, 1-3MM had very similar sales issues that we could impact. We found the printers with sales less than 1MM would not be able to invest in a solution or service like ours. Although they needed to invest the standard 10% of their budget dollars to sales and marketing issues and efforts, they just couldn't commit to that for a long period of time. They knew they had a sales problem but like many of the companies we work with, they didn't know how to solve it, but they've figured out how to live with it.
At this point, we have narrowed the market segment down to Commercial Printers, with sales between 1MM and 10MM. As you're reading this you might be asking yourself where 10MM came from. We made the assumption that it will work for companies with sales of 10MM because our current customer in the print industry is just over 10MM. They also have a sales team of 8. Most SMB Commercial Printers have smaller teams, usually less than 4 and sometimes the CEO or owner is the primary sales person.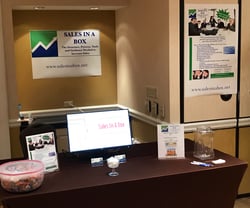 You would think the best part of the CEO or owner playing the sales role is that they will completely understand what we are talking about when we start discussing their problems and how we can help solve them. They are living the problem every day. Well that isn't quite accurate. These owners that are the main sales person or the only sales person seemed to be in a bit of denial. Many of them felt as if sales were fine, they knew when to sell and whenever they needed more business, they put on their sales hat and went out there and got it. Newsflash… that's not sustainable. I could go on and on about this but I think that would make for another blog post later.
So here's where we are now… Commercial Printers with sales between 1MM-10MM with a sales team between 1 and 8; preferably with the 1 sales person not being the owner.
Great… I now have a NICHE target market for our new service! Not just a target market but a niche market. Next, I did some research, where can I find these companies and get access to the right buyer persona? That's when I found the NPOA conference. I was using Google to find meetings, groups, or any events where print sales leaders would congregate, and I was fortunate enough to find a few things. I found the NPOA Conference and immediately called to see if it was too late to exhibit at their showcase event. They allocated 2 ½ hours on Friday evening for the attendees to walk through the large event room where we, and about 20 other vendors displayed their products and services.
Fortunately, it wasn't too late and we were able to register to exhibit. More on that in a minute. In doing our research, we also found Idealliance. The Idealliance is an industry association representing the visual communications industry, comprised of content and media creators, and their print and digital service providers, material suppliers and technology partners. PERFECT!
It turns out their annual conference is in June in Dallas, Texas. June is good because that gives us more time to prepare and Dallas is great because we have a remote employee in Dallas that I could spend some time with!
I made the call to Idealliance and the conversation went so well it turned into an interview to be a speaker at the event. After a 45-minute conversation, sending over some videos and links to other events that I have been able to speak at such as HubSpot's INBOUND Conference, I was selected to speak about Sales Leadership at the event this June. Again, setting myself up to speak to a niche target market that will be able to understand my offering rather quickly because it has been designed for their industry based on my knowledge of their sales problems!
This is how you can accelerate your sales process. Last week I was able to meet with over 50 print owners at the NPOA Conference. I shared my ideas and service offering and was able to quickly connect my offering to their current sales problems. I can do this easily because I know their
problem. Many of the companies in this industry, within the demographics I researched, are dealing with similar issues. This makes my sales presentation much more targeted and as a prospect, they feel as if I already understand them and the issues they are dealing with.
This sets me up to become a trusted advisor. I don't want to go off on a tangent here but research has shown that a sales professional that is considered to be a company's trusted advisor, closes the sale 69% of the time. Picking a niche allows me to understand that particular market better, therefore becoming a trusted advisor sooner… what a great way to accelerate your sales process.
There's no doubt here in our office, if you want to increase sales, profit is in the niches! I have to run… I have 50 prospects to follow up with ;-)