Bob, the CEO, recently promoted sales Superstar Glenda to Sales Manager. Bob expected big things out of Glenda. After all, no
other sales person had opened the amount of business Glenda secured in the previous few years.
Unfortunately, Glenda fell short. The sales team didn't evolve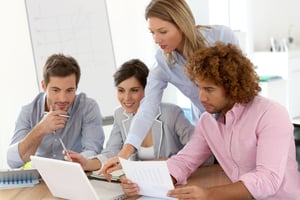 well, some left, and others struggled with their sales goals.
Bob pulled at his hair, because he didn't understand why this happened.
But we do. Glenda wasn't an efficient
sales coach.
With time and effort, Glenda and those sales managers like her may be high-performing managers. It all depends on how they
themselves are nurtured and developed.
Glenda's manager (we're talking to you, Bob) needed to step in and deduce why Glenda wasn't performing up to par, and then
take action to fix it.
Here are some common issues the
Maven Sales Group
sees frequently with sales managers that aren't performing.
Wasn't Taught How to Be A
Sales Coach.
We don't automatically expect people to know how to do most new things. Tell someone to speak another language, ride a
motorcycle, cook like a chef, or perform a karate kick and they'll look at you like you've lost your marbles.
Then why should new sales managers be expected to coach?
Filling a managerial role might not come easy to a former sales person, regardless of the success they enjoyed.
Just because they can "DO" doesn't mean they can "LEAD". New managers need to participate in training on how to relate to
their team, how to provide motivation, and the areas they should work on to become more effective managers. Simply expecting
managers to know how to coach is setting the entire sales team up for a flat performance.
Says There's Not Enough Time for
Sales Coaching:
Sales managers are typically under the gun to snag demos, close deals, and make their numbers. Unless they were born with a
natural inclination on how to coach sales people, they will usually fall into the habits of making threats and exerting pressure.
Managers who aren't as strong as they need to be won't take the additional time to develop their team's skills. Sales people get
frustrated and either stop trying or start looking for another job.
How to fix it:
Creating a culture where it's understood coaching is a standard part of the job is necessary to build a high-
functioning team. Sales managers must be held accountable to provide coaching to each of their sales people. This can be
personal, one-on-one coaching, team coaching, or outsource it the professionals such as
Maven SalesGroup coaching
.
This initiative needs
to be tied back to the sales manager's performance review and bonuses to drive home its importance.
Believes

Sales Coaching

is A One-Time Thing:
Sales managers can get coaching and training mixed up. These are NOT one and the same. Training is technique, product
knowledge, and scheduling. Coaching is a deeper concept, dealing with motivation, trust, and morale. None of those are
accomplished in a single sitting. Sales managers who think they can slap on their
sales coach
hat once and then never wear it
again are not going to see positive results.
How to fix it:
Sales managers need coaching too! If you are a sales manager's superior, do a little coaching of your own. If the
sales manager doesn't "get" how to coach his or her team, find some training and coaching to participate in on a regular basis.
By communicating your expectations, the sales manager can begin to weave coaching into the fabric of the relationships between
themselves and their sales teams.
Comes Across as Too-Critical
It's easy for sales managers, especially those new to leading, to criticize sales people. While most of them possess thick skin, how
could they be in sales otherwise, ongoing negativity is going to have the opposite effect of motivating them. Sales managers who
"tell it like it is" are not coaching their team. They may even be doing more harm than good.
How to fix it:
Working toward a positive solution is the better way to build a solid coaching strategy. Again, this takes
communication between the sales manager and the sales person. When a sales person hears helpful insight and actionable plans
from his manager, it prompts loyalty and motivation. Sales managers need to understand that being a
sales coach
is less about
pointing out what is wrong and more about building a path toward success.
Cultivating sales leadership with a strong
sales coaching
focus isn't easy. It takes dedication, training, and planning to pull it off
effectively. A hot-shot sales person won't flourish into a successful sales manager without assistance, guidance, and oversight.
Organizations that make it a priority are rewarded with a strong sales presence that hits goals and stays motivated in their jobs.
The return on investment is worth the effort.

According to the International Coach Federation, "the average company can expect a return of 7 times the initial investment in coaching". And research from The Corporate Executive Board Company shows that "sales reps who receive just three hours of coaching a month exceed their goals by 7%, boosting revenue by 25% and increasing the average close rate by 70%".