It's no secret that social media has allowed us all to form friendships with people on the other side of not only our country but the entire world. People we would never get a chance to meet otherwise. People who can help us understand the human exper
ience even deeper, people who are not like us in any way other than we share this incredible invention: Social Media. It's downright amazing when you think about it.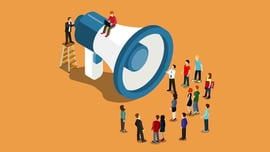 Now of course it isn't all rainbows and happy endings, we know this. So when you start to forge into this arena for your small business, the same basic principles will apply as to who you reach out to, why you are reaching out to them, how you initially connected, and what you expect to gain/experience from this connection as you would in a personal connection ….. only through a much finer filter.
I also read this statement recently, "The easiest customer to lose is the one you don't speak with." That stuck with me. That is the whole point if integrating this phenomena into your small business strategy. Using this platform wisely to speak with your customer or future customer on a human level, about topics that interest them. HubSpot defines content marketing as ~ the strategic marketing and business process focused on creating and distributing valuable, relevant, and consistent content to attract and retain a clearly defined audience, and ultimately, to drive profitable customer action.
So in that vein, why would you not focus only on that content specific to your potential customer? And if you're not… you should! Gone are the days of "spray and pray" marketing. Stop doing that! Like, immediately! Your potential customers deserve better. Actually they demand better because not only are the days of broad stroke marketing gone.. so too are the days when sales teams held all of the information. Your customers and potential customers are educated. And if they are not… they can certainly Google whatever service it is that you provide to find out more before they ever even reach out to you.
Knowing this information should make you WANT to produce amazing content for your social media channels! But again, before you create …..who is it you are speaking to? Do you know your audience well enough? Have you made strong connections on these channels or is your connection strategy just to send as many requests as possible and hope they accept? That may be your strategy for your personal accounts but be very, very mindful when it comes to business accounts on social media. You have a purpose and that purpose is to drive awareness that creates profitable customer action …. Not win Most Popular On The Internet.
So where do you start? How do you fine tune this process? Here are three easy steps to help get you focused in the right direction with your small business social media accounts:
Networking- Search for users in your target audience. When sending a request to add users to your network, it is always better to accompany a request like this with a personalized message. (About why you are connecting NOT to sell them something). You can also join groups that pertain to your line of business or interests. Remember - The goal isn't to sell your products, but rather to engage and provide information your audience will find useful as it relates to your company or service. For example; watch this webinar by David Fletcher, Founder and CEO of Maven Sales Group. Not only does this webinar provide a service – educating the customer on what service this company can provide… it is creating awareness in an interesting way, for the company in general and driving customers to the website to learn even more about the service offerings Maven Sales Group can provide.
Cultivate your online presence – Make your social media presence known! Add links to your social media pages on your website, e-mail signature line, or newsletter. Having social media profiles for your business greatly helps with SEO, with each social media platform generating a link to your website. Another way to make more impact with your online presence is by adding pay-per-click (PPC) advertisements, which can be excellent for small businesses. PPC is a great tool, because it helps small businesses that don't have a big budget start a marketing campaign where you pay a fee each time one of your ads is clicked.
Connecting - Stay connected with your followers and group members. Social media marketing is easy to start, but requires effort to maintain. And like many networking efforts, results are usually not immediate. Be consistent in your online participation. It is not a one-time effort. It is about building a relationship—and relationships take time. Be consistent in your social media communication. Have an interesting tweet/post/update at least every day. However, don't over post. Posting 10 times a day can annoy your audience and make them stop following. And that is as opposite from the point as you can make it.
So whether you are brand new to social media marketing or are just trying to get a pulse on the right type of social media marketing for your small business, explore these options. Like everything that is worth doing…it takes time and effort. You can never stop creating intriguing content and you can never stop making valuable, solid business connections. Yes it sounds like a tall order but what a wonderful tool we have for connecting… use it wisely and use it often.