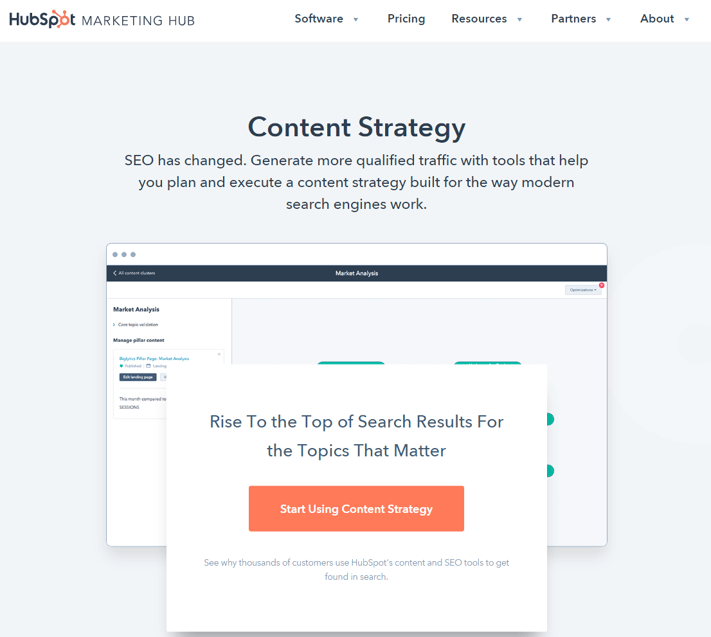 Having just gotten home from HubSpot's INBOUND 2017, I'm full of energy, the latest inbound marketing insights, trends, and eagerness to start using all their new products. Instead of overwhelming you, I'm just going to share what I think is my most powerful takeaway, HubSpot's new Content Strategy tool. It's available now to all Marketing basic, professional and enterprise customers.
One of the breakout sessions I attended was Topic Clusters Over Keywords: It's the End of SEO (As We Know It), by Leslie Ye, Senior Marketing Manager, HubSpot Sales Products. If you stop and think about it, the way we search has changed. So has how search engines deliver search results. We talk to our computers and phones now ask questions or saying conversational statements to find what we're looking for. 10 years ago if we were searching for somewhere to eat we might have typed "restaurants in Dallas". Now we type or say "what's the best italian restaurant near me". So if we've changed how we search and Google and other search engines have changed how they deliver search results for us, why shouldn't Marketers change our SEO and content strategy? I agree with Leslie, topic clusters are the new keywords and it's the end of SEO….as we know it!
I'm going to give you the theory behind, an overview of and how to use the tool.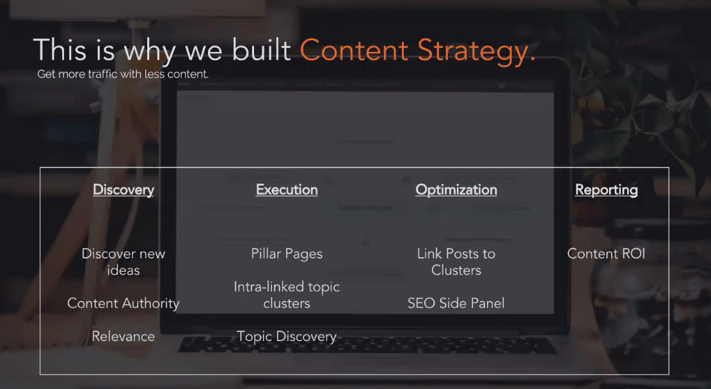 Time to Build a Pillar (Page)
A Pillar Page, is a complete resource on a given topic that lives on your website. When you do keyword research for a blog post you likely think of long-tail keywords that can show up in SERPs. With your new pillar page, you need to think of the overall topic you are aiming to gain influence around. You need to select a topic, product or service you want to have content authority about.
There's 3 keys to a Pillar page:
1. A Pillar Page is different from a Landing Page with an offer
A traditional landing page with an offer is a great resource for prospects, and it has the benefit of converting visitors by filling out a form. However, hiding content behind a form in a PDF means that Google can't read it. Which means due to the latest search algorithm updates, your content won't be read. So, a Pillar Page is a comprehensive page with ungated content. Yes Inbound Marketers, I said UNGATED CONTENT.
2. How to decide what is a Pillar Page, and what isn't
Pillar pages should be 2-4 word "head-tail" terms that have a moderate or high amount of search traffic. Ideally it covers an overall topic, like Lead Generation. Anything with less search volume that answers a specific longer-tail question within the topic, such as "what are the most effective lead generation strategies" is better as a sub-topic piece of content.
3. What a conversion path should look like with a Pillar Page
If you read the section above, you may be thinking… "Wait a second, you want me to give away my content for free? How am I supposed to generate leads?" It's a great question, and we encourage that you have a form on your Pillar Page. However, instead of hiding a downloadable offer behind the form make a downloadable version of the content.
Introducing Topic Clusters
A topic cluster is a group of content built around a pillar page, a series of sub-topic content that covers a topic in-depth. Surrounding that pillar page is sub-topic content which answer long-tail questions on the topic.Given the changes in search, it's important to include synonyms and closely-related words here as well. Here's an example what our "Customer Relationship Management" strategy looks like.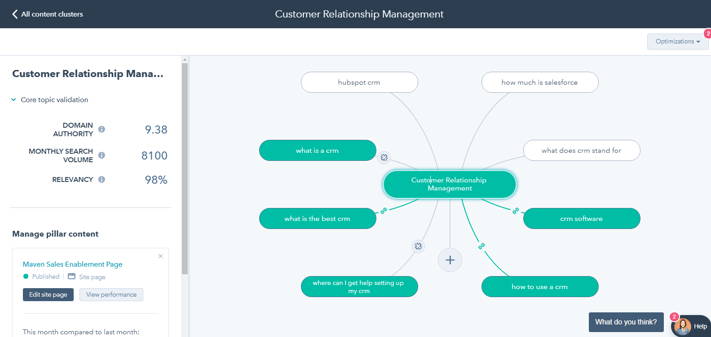 At the center is our CRM site pillar page, and each surrounding topic is a blog post or content we offer. The lines in-between them represent a text-based hyperlink from the sub-topic content directing to the pillar page. This is what connects the whole strategy together. You should have a text-based hyperlink from your blog post (subtopic content) that points back to your pillar content. This is important because it shows Google that all of this content is related, and it provides a conversion path for visitors.
Do Not Fear, Helpful Features are Here
With the drastic change in SEO and content strategy change, HubSpot knew we would need some help. So they build some really useful features in the tool to maximize and optimize it.
Validation Metrics
You will see new metrics such as Domain Authority, Monthly Search Volume, Relevancy, and when in a subtopic, Core Topic Similarity. Below is a quick definition of each and how you should use them.
Domain Authority

- This is a measure of the overall authority of your domain from 0 - 100. The closer to 100 you are, the more authoritative your domain is, which means you have a higher likelihood of ranking in search.
Monthly Search Volume

- This is the search volume for the core topic or subtopic you've entered.
Relevancy - This is a measure of how relevant your topic or subtopic is to content already on your domain. For example, at Maven, if we were creating a topic cluster about lead generation, it's likely it would be highly relevant because it's a topic we write a lot of content about.
Core Topic Similarity

- This only displays when you click into a subtopic and is how similar your subtopic is to the core topic. While you want them to be relatively similar, keep in mind that you should use synonyms here so you shouldn't aim for 100% each time.
Optimization
The tool has an optimization feature that looks for 4 things:
1. Number of subtopics within the cluster. HubSpot recommends the minimum number of subtopics you should have is 8 and the maximum is 22.
2. Links between a subtopic and core topic. If a link isn't detected, it will show up here.
3. Low-quality inbound links. Links are the foundation of building authority in the eyes of search engines, but if all your links come low-quality websites, it won't do much to help you. It's best to shoot for links from established websites in your industry.
4. Low word count. Google has made it clear that thin content (content with little to no value) won't be rewarded. If HubSpot detects a post that doesn't have many relevant pillar page words or just seems like it's low quality, they will flag it in optimizations to improve it for search engines and your website visitors.
Reporting Dashboard
After you've setup a topic cluster, an overview of its performance will display on the Content Strategy dashboard, like this:
Each topic cluster is reported independently and contains information about sessions, new contacts generated, customers generated, and inbound links.
For Marketing Professional and Enterprise customers, you have access to a report where you can see deeper metrics about each piece of content within the cluster or zoom out and see the performance of an overall cluster compared to others.
The Content Strategy tool and approach has already begun to transform our content creation process and results. If you have any questions or would like a free evaluation of your content strategy, request a free assessment. We would love to help you get started!