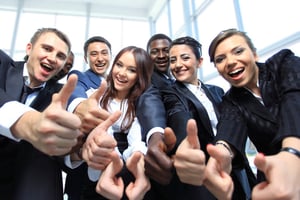 Companies of all sizes, types, and locations need quality leads to continue to grow. In order to acquire those quality leads, companies can leverage a multitude of tactics, including using appointment setters and Sales Development Representatives (SDRs). While both appointment setters and SDRs have a vital place in sales, the key to building the most effective team is to understand which role will fit best in your sales process and subsequently support your buyers on their journeys. In fact, selecting the wrong discipline for your sales process can lead to poor conversion rates, a negative customer experience, and a lack of growth. The good news is that we are here to help you build your own SDR team, so that you can enjoy all of the benefits of a winning sales team.
Tip #1. Understand the role of a SDR team.
Building your own SDR team is made easier when you understand the vital role that these individuals will play. Your SDRs should be focused on the following tasks.
Researching;
Prospecting Target Accounts; and
Nurturing qualified buyers.
As your SDRs complete their tasks, they should be working cohesively with account executives to ensure that each lead has a positive and customized buyer experience. In return, your account executives will be able to more easily take the lead to the closing and final sale portion of the buyer's journey. Through the latter tactic you can maximize efficiencies and output to enjoy heightened levels of growth.
Tip #2. Hire for attitude, not just skill.
Hiring SDRs is about much more than their sales skills. Instead, you must remember to focus on both their attitude and aptitude. To help you find and hire the right individuals, ask yourself the following questions:
Can you train and coach them?
Do they a persistent attitude?
Do they have empathy?
Are they determined to succeed?
Do they have the ability to learn from both failures and successes?
Will they burn out quickly?
By answering the above types of questions you can more accurately identify the personality traits that will help your new hires succeed in their roles as SDRs. Remember that while skills are important, when it comes to the role of a SDR, attitude and personality are often far more important. After all, you will spend an average of 4 (four) months training SDRs until they can reach their full potential. While the latter timeline might seem extensive, keep in mind that on average SDRs contribute 65% (sixty-five percent) to a company's sales pipeline and revenue. In other words, if you want your team to succeed, then you need to spend time hiring, coaching, and training your SDRs so that they have the tools and attitude needed to connect with high quality SQLs.
Tip #3. Scale at the right pace and time.
One of the most common mistakes that we see are managers who scale too quickly. The latter issue occurs when managers have a documented and proven process for lead generation, setting appointments, and closing deals. Once they have the latter "formula," they tend to give into the urge to hire new reps with the idea that they will more quickly reach heightened levels of success. However, the challenge of scaling too quickly is that often times SDRs aren't properly trained. Keep in mind, that your SDRs are focused on delivering Sales Qualified Leads (SQLs) to your account executives, which means that they need to spend time with each lead asking the right questions and ascertaining the lead's level of interest in your company's products or services. In this vein, it is vital that you scale at the right pace, while simultaneously giving SDRs the coaching that they need to succeed.
Tip #4. Incentivize your SDR team.
As a general rule of thumb, the majority of sales associates are motivated by the compensation that they receive for closing deals. Since SDRs are focused on finding and building relationships with prospects (not closing deals), it is vital that you offer the right incentives as you build your own SDR team. To properly incentivize your SDR team, you might want to implement a "points system." For example, you might give points for a certain number of meetings that are set. A higher number of points can be given for each meeting that actually occurs; and the highest number of points can be given for each lead that turns into a new customer. Through the latter strategy your SDRs can be encouraged and rewarded for finding high quality SQLs.
The Bottom Line: Hiring a team of SDRs is largely about timing and expectations.
At the end of the day, building your own SDR team is made easier when you understand the role of your SDR team, ask the right questions during the hiring process, scale at the appropriate pace, and incentivize your team so that they don't burn out too quickly. Through the latter four tips you can find individuals who have the right attitude, can remain consistent even in the face of rejection, and are
ready to help your business connect with high quality SQLs. By scaling gradually, identifying the right group of individuals who will help your sales process, setting the right expectations and incentives, and providing a longer period of training, you can not only create a highly productive SDR team, but you can inevitably help your account executives close more deals throughout the entire year.
Of course, if all of this seems to be overwhelming, you can outsource your SDR team to a company like us where we do all the work for you. We provide the resource, the process, and the contacts. Once our SDR qualifies them, the prospect can be handed off to your sales team if they are ready to move into the pipeline or they can go over to marketing for the appropriate drip campaign until they are ready to enter the sales pipeline. Want to learn more, visit our website or download this informative document on our SDR service.