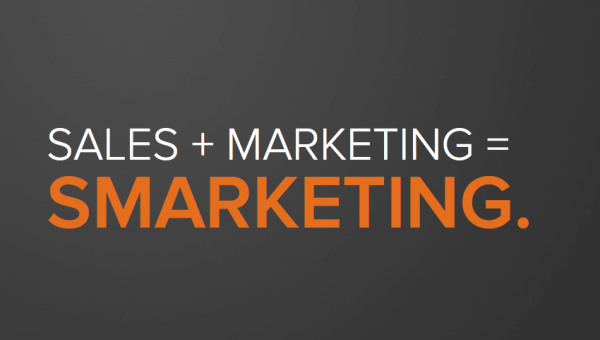 Sales and marketing have long been at odds with one another in organizations across the world. But it doesn't have to be that way. In fact, this tension and disconnect that exists between these two vital teams can actually lead to inefficiencies and lost business opportunities. That's why smarketing is so important.
Smarketing is the process of aligning your sales and marketing teams around common organizational goals that focus on improving revenue. It is important for sales and marketing teams to work together if your company wants to achieve your overall business goals. Below, we'll dive a little deeper into why this alignment between sales and marketing is essential to success and give an overview of some best practices that your company can adopt to promote smarketing across your organization.
Why Smarketing is Critical to Inbound Marketing Success
When it comes down to it, sales and marketing are two parts of one team – Team Revenue. However, when you look at day-to-day operations within your company, you may very well find that these two departments are not acting as one team. This misalignment can lead to a range of issues for your company including poor communication, flawed processes, and inconsistent follow-up.
In the end, this will cost everyone at your company, not just one team. In fact, research by HubSpot and Marketo have found companies waste over $100MM per year on lost sales productivity and misused marketing budget. Much of this waste could be avoided if more companies worked to align their sales and marketing teams with a focus on unified organizational goals.
The key to making sure that sales and marketing are working together as one team is to promote smarketing across your organization. According to HubSpot, companies that have strong marketing and sales alignment often see a 20% annual growth in revenue. Research also shows that companies where sales and marketing work together see 36% higher customer retention and 38% higher sales win rates than those companies that do not emphasize smarketing.
4 Smarketing Best Practices Your Company Should Adopt Today
Smarketing isn't easy, but with a little planning and strategy, you can help bring together your marketing and sales teams to achieve mutual success. Here are 5 best practices that your company can put into place to promote effective smarketing across your organization:
Align marketing and sales teams around the same goal.
If you want your marketing and sales personnel to be on the same team, you need to make sure that they have the same or interdependent organizational goals. If each team is working toward the same ultimate goals, they will be more likely to work together to ensure a positive outcome. This helps you to avoid the mindset that marketing and sales are two separate teams working apart from one another.
To jumpstart this organizational alignment, you might consider offering compensation around these shared goals. For instance, rather than providing commissions to sales personnel based on their quotas, you might instead provide a bonus to both teams based on their ability to meet their shared goals. That way, it is no longer "every man for himself" but rather "every man for his team."
Tie the marketing pipeline to sales quotas.
In order for your sales and marketing teams to work together, they need to be speaking the same language, and that language is revenue! By tying the marketing pipeline to sales quotas you can help your marketing and sales teams better understand how each impacts the other. An important part of this process is having your marketing team work backward from sales to determine how many leads need to be identified and nurtured to reach sales goals.
Another factor that you'll need to consider is what qualifies as a sales-ready lead. You need to make sure that your sales and marketing teams on the same page about this. Marketing needs to know what qualifies as sales ready in order to effectively nurture leads through the funnel. While sales needs to know which leads are ready to be contacted by their team.
Allow for visibility into each team's goals.
Visibility is another important part of getting your sales and marketing teams to work together. If marketing sends leads to sales that the team never follows up on or sales feels that they are not getting enough of the right kinds of leads, this can cause issues within your company. By creating visibility between marketing and sales teams, you can make sure that everyone can see what is happening with leads in each step of the funnel.
One way to make sure that your sales team has visibility into marketing activity and marketing can see sales activity is to use closed-loop reporting. Marketing automation software like HubSpot and your CRM make it easy for marketing to send more information about leads to sales and for sales to provide more feedback and sales activity information to the marketing team. This ensures that everyone is in-the-know and working together.
Promote education and communication around buyer personas.
It's important that both your sales and marketing teams are on the same page when it comes to buyer personas. Aligning both of your teams around these personas helps ensure that they are both focused on solving these buyers' biggest challenges. The first step in this process is to clearly define and outline your buyer personas. Then make this information accessible to both teams and upload the personas into HubSpot.
Education and communication around these buyer personas are important. One of the best ways to make sure that both teams are on the same page is to hold weekly or bi-weekly meetings with marketing and sales together. During these meetings, you can provide education or training that is focused around buyer personas. This is also a great opportunity for sales and marketing to talk to one another, providing updates and working out any issues.
Want to learn more about how you can improve results with smarketing? Schedule a free Sales assessement for your company! We will help you identify areas in your Sales and Marketing teams where you can increase alignment of your goals leading to increased revenue.