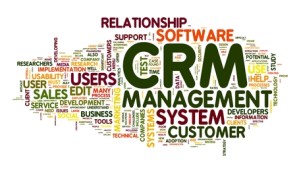 First of all, what is a CRM? I had a new client recently ask me that question at which point I realized; maybe it's not as commonly understood as I thought? Not only did I write this blog but we put together an Ebook, The Beginners Guide to CRM. Customer relationship management (CRM) is a term that refers to practices, strategies, and technologies that companies use to manage and analyze customer interactions and data throughout the customer lifecycle, with the goal of improving business relationships with customers, assisting in customer retention and driving sales growth. CRM systems are designed to compile information on customers across different channels — or points of contact between the customer and the company — which could include the company's website, telephone, live chat, direct mail, marketing materials and social media. CRM systems can also give customer-facing staff detailed information on customers' personal information, purchase history, buying preferences and concerns.
CRM was designed primarily to capture and report on large amounts of contact data to keep an organization in closer and closer touch with its prospects, leads, customers, and other contacts. The data collected can help you understand and score each lead's interest in your products or services. The more you're able to score your leads, the better you can use targeted marketing to nurture those leads down the funnel to a sale.
CRM software consolidates customer information and documents into a single CRM database so business users can more easily access and manage it. The other main functions of this software include recording various customer interactions (over email, phone calls, social media or other channels, depending on system capabilities), automating various workflow processes such as tasks, calendars and alerts, and giving managers the ability to track performance and productivity based on information logged within the system.
Common features of CRM software include:
Marketing automation: CRM tools with marketing automation capabilities can automate repetitive tasks to enhance marketing efforts to customers at different points in the lifecycle. For example, as sales prospects come into the system, the system might automatically send them marketing materials, typically via email or social media, with the goal of turning a sales lead into a full-fledged customer.
Sales force automation: Also known as sales force management, sales force automation is meant to prevent duplicate efforts between a salesperson and a customer. A CRM system can help achieve this by automatically tracking all contact and follow-ups between both sides.
Contact center automation: Designed to reduce tedious aspects of a contact center agent's job, contact center automation might include pre-recorded audio that assists in customer problem-solving and information dissemination. Various software tools that integrate with the agent's desktop tools can handle customer requests in order to cut down the time of calls and simplify customer service processes.
Geolocation technology, or location-based services: Some CRM systems include technology that can create geographic marketing campaigns based on customers' physical locations, sometimes integrating with popular location-based GPS apps. Geolocation technology can also be used as a networking or contact management tool to find sales prospects based on location.

This is where marketing automation software comes in. It was designed to provide interactive, targeted marketing campaigns. Marketing automation makes use of web forms and email marketing campaigns. Because the value of these two tools in many ways complements each other, they are often used in tandem. When you combine the power of CRM to handle personalization and lead scoring with the efficiency of marketing automation to deliver campaigns to targeted segments of your list, you suddenly have a robust sales and marketing machine. But that's not all. Many small businesses use automation for processes outside of direct sales, adding efficiency and accuracy to other business functions that they hadn't initially expected to improve when they adopted CRM, such as:
Automate collecting of W-9, 1099, or other important forms
To-do management by using automation, simple tasks can be initiated, tracked, and marked complete so that details aren't lost in the daily fray
If your business works with vendors, automate your requests, delivery scheduling, and other details to keep the business humming
When you're ready to take your small business to the next level, be prepared to implement a CRM tool. It's the necessary evil that will help you break through your current sales obstacles as it creates organizational advantages, structure, process, and efficiencies. Here at Maven Sales Group, we, of course, have our favorites but you'll have to talk to us in order to learn more about that!