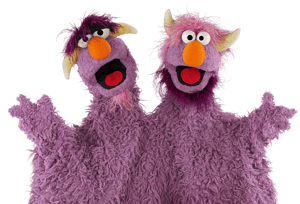 The idea that CEOs must wear multiple hats has been perpetuated to the point of absurdity. Far too often small to mid sized companies find that their CEOs are trying to also wear the hat of sales manager. Unfortunately, you can't be both. You can't be a sales manager and a CEO, it is simply too hard. Trying to fill both of these roles will have you feeling like The Two-Headed Monster from Sesame Street! You can, however, be the leader and visionary needed to provide sales strategy to your sales managers.
If You're The CEO, You Can't Be The Sales Manager Too
The primary reason that you can't be both a CEO and a sales manager lies in inconsistencies. If you are trying to balance your CEO responsibilities with managing the sales team, then you will soon discover that you are creating inconsistencies. One minute your sales team will be able to turn to you for advice, the next moment they will find that their questions are left unanswered because you have been pulled into an executive meeting. Not to mention that if mergers and acquisitions are your future, then you already have a full time job that will require your complete attention. A failure to provide your full attention to M&A will lead to costly missed opportunities.
Additionally, your interests as a CEO will directly contrast with the role that you need to play as a sales manager. For example, as a CEO you will need to manage based on revenue. However, if you manage a sales team by revenue alone, then you will fail to properly analyze and address the metrics (and activities) that drive sales. For example, you might not notice that your top performers are producing 95 percent of the revenue, while your middle and bottom performers are having minimal success. With a CEO's mentality, you will not be able to provide the coaching that your middle and bottom performers need to pull their weight. In fact, if you are trying to be a CEO and sales manager, then you will soon discover that the vital component of sales coaching completely drops by the wayside.
Sales Coaching Doesn't Exist When The CEO Is Managing Sales
CEOs are many things, but they aren't sales managers, and they aren't sales coaches. Conversely, a sales manager is many things. He or she is:
Motivating.
Great at keeping records, analyzing data, and providing support.
Offers guidance.
Gives fantastic pep talks at the exact moment that they are needed most.
Effectively manages stress (both for themselves and the entire team).
Helps their teams reach new heights.
Implements innovative tactics to develop skills.
Creates a cohesive unit that achieves new levels of success.
With the above characteristics in mind, many CEOs make the false assumption that either a) they can become sales managers, or b) that sales managers make great coaches. The truth of the matter is that unlike sales training, sales coaches are focused on helping teams continuing to develop and fine tune their skills. They are not interested in teaching a sales associate a new skill (that is the job of sales training). Instead, sales coaches are interested in helping the middle performers reach new levels of success.
Let's reexamine the earlier example of a CEO who is focused on revenue driven results. Due to far too many responsibilities and time constraints, the CEO will fail to notice the reasons why middle and low performers are only producing 5 percent of the sales. However, a sales coach will not only identify why the middle and low performers have lower sales results, but they will also know what resources are needed to produce better results.
Unlike a sales manager who knows how to exploit the skills of their top performers to increase sales, a coach will recognize what skills need to be developed at the middle and lower tiers. In fact, developing these skills is what a sales coach does best. By contrast, the mentality of a CEO is to focus on the bottom line. In this vein, it is hard for a CEO to worry about the middle performers when they appear to be "doing their job." However, if you ever want your middle rung performers to reach the highest levels of success, then you need to give them the coaching that they need to perfect their skills. With this in mind, a sales manager can recognize when a sales coach is needed. A CEO who is trying to also be a sales manager simply doesn't have the time to look for the underlying reasons why one sales associate is more successful than another team member.
Choose One Title And Complete Those Job Responsibilities To The Best Of Your Abilities
We all have certain skills in life, CEOs and sales managers included. It might be tempting for CEOs to be sales managers; however, as seen through this post, it is virtually impossible for a CEO to also be a sales manager. First and foremost, sales managers and CEOs have a different set of priorities. CEOs are typically focused on revenue and the bottom line. Conversely, sales managers are focused on getting the most out of their teams. As part of their job, sales managers can take the time to "dig through the weeds" to discover why middle and low performers are struggling. A CEO will be more focused on the bottom line, and less interested in how the bottom line was achieved.
Inevitably, sales managers are better equipped to recognize when an outside sales coach is needed to increase sales and improve the skills of the middle and low performers. CEOs are better equipped to be leaders who can direct the sales strategy, not manage it. Instead of trying to wear multiple hats, CEOs should do what they do best ... be the visionary that recognizes success comes from delegating the right roles to the right people. In other words, be the CEO who created the foundation needed for heightened levels of success by hiring the right sales manager, who will in turn rely on the right sales coach.