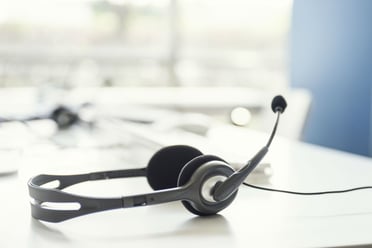 With the popularity and necessity on the rise for successful Sales Development Representatives (SDR) and Departments, being a former SDR I thought I'd give you a sneak peek of what the day-to-day of an SDR looks like. First, props to all the Sales Development Reps out there! It's a very tough job that doesn't get the praise and acknowledgement it deserves.
Briefly, why has the SDR role become so vital to company's sales success? They are the lead gen engine for their pipelines. They also play a key role in the Marketing effort of inbound leads (a SDR's best friend by the way). In addition, they create alignment between Sales and Marketing.
A quick overview of the role, it's glorified cold calling at times. Who likes to cold call? The truth, NOBODY! The main reason is fear, more specifically fear of rejection and failure. SDRs are the front line of a company in the trenches. Most of the time, they are the 1st voice and representation of a company. They are calling into ice cold, cold or sometimes warm lead lists with the goal of finding the decision maker(s), starting and nurturing a relationship, and ultimately scheduling a meeting for one of their sales reps.
What Did You Say?
To get a better understanding, I thought it would be helpful to share the language SDRs speak. They talk in lots of acronyms. Here's a few of the most popular...KPIs (key performance indicators), CRM (customer relationship management), MQLs (marketing qualified leads), SQLs (sales qualified leads), GKs (gatekeepers/secretaries) DMs (decision makers), ANUF (authority, need, understanding, fit). Other lingo is "hot or live transfers" (connect a prospect on the call with a sales rep), "no showed" (prospect didn't show up for the scheduled meeting) and sleuthing (prospecting research to leverage on calls and emails).
A Home Away From Home
Besides their house, apartment, or shack, SDRs live in customer relationship management systems (CRM). It's the lifeblood of what they do. I used to have CRM dreams because I spent so much time in them. SDRs are working their call queues and tasks, managing their accounts (companies), working and adding their contacts, typing their call notes and updating prospecting information. The cornerstone of success for Sales development reps is an intuitive and easy to use CRM. The best system I have used is HubSpot's. The best part about their CRM is IT'S FREE! Others can be very expensive and difficult to use.
It's a Numbers Game
Sales is a numbers game right? The SDR role is the epitome of that game. SDRs have daily KPI requirements of usually 50-100+ calls/voicemails and 50-100+ emails. They usually experience the sales law of 10%. 50-100 calls, hope to talk to 5-10 people, qualify them and influence 1 to talk to a sales rep or schedule a meeting aka SQL. Don't forget about the 45-90 voicemails left and 50-100 emails sent. And of course getting hung up on and yelled at for calling. Yeah, it's rough!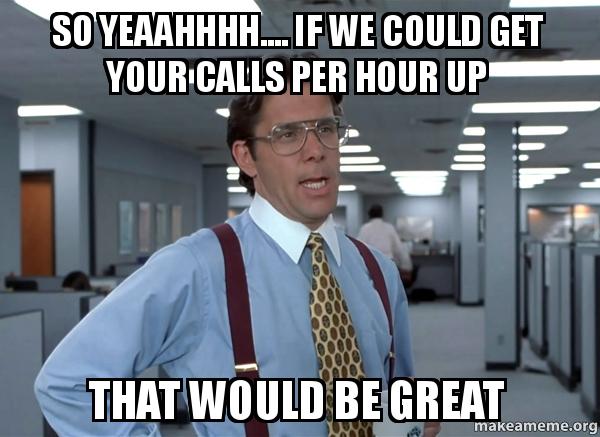 For your entertainment, here's a few examples of what I've heard some of my team members being told (expletives withheld):
"Never call me again!"

"Didn't I tell you to stop calling me?!?!"

"If you call me again I'm going to….sue your company, come after you, (use your imagination)"

"He/She DOES NOT want to talk to you"

I'm the CEO, President, VP, etc, do you really think I have time to talk to you? CLICK!"

"You're wasting your time. I'm not interested!"
Success for an SDR seems microscopic, but it's why it's call Sales "Development". They are developing the sales process from ground zero. SDR success looks like:
Getting past the gatekeeper

Getting a call back from a voicemail left

Getting a response from an email sent

Connecting with a prospect on LinkedIn (in a meaningful way)

Finding out who or getting a direct number, extension or email address of a decision maker is

Having a conversation that results in valuable information about the pains or problems a department or company is having

Building an influencer relationship within the company

Getting a reference
Interview with an SDR
I interviewed one of our successful client sales leaders who was previously in an SDR Role and I want to share what led to his success during his time as an SDR.
Me: "What led to your SDR success?"
Michael: "Being the 1st one at the office, hitting KPIs, and not giving up on leads"
Me: "What was most helpful to you when trying to penetrate an account?"
Michael: "I always tried to get the 3 points of contact like in mountain climbing - a decision maker name, email address and direct number or LinkedIn profile."
Me: "What was the hardest part of being a SDR?"
Michael: "The level of micro-management due to SDR management software and dashboard transparency provides. I'm all for being held accountable, but too many SDR managers primary focus on number of calls and not the bigger picture."
Sales Development Software Required
Sales Development software has become a huge weapon for SDRs that makes them more efficient and effective. With features like 1 click auto-dialing, call recording (for coaching), customized email templates, batch email sends, email tracking and notifications, strategic call/email sequences, personalized calendar scheduling tools, PDF content tracking, and integrated chat. My top SDR software recommendation is HubSpot's Sales Pro. It's power packed with features mentioned above that can increase your SDRs effectiveness and SQL generation success. Other quality options are SalesLoft and Velocify.
Let's Get Social
Haha, no, not Mary McCoy's infamous song. Social selling. It's not just a trend, it's the now and future of SDR success so embrace it. Buyers have changed how they buy. They don't want to talk to a salesperson until they are in the decision making stage. So how do you engage with them before that? Empower your SDRs with the social selling training and tools they need. I highly recommend LinkedIn's Sales Navigator.
In closing, please value and fairly compensate your Sales Development Reps. They work very hard, have a tough job and deliver incredible value to your company. If you invest in them and give them opportunity the will be the future sales leaders and executives of your company.
P.S. They love energy drinks, free lunches, ping pong and team outings!
If you're looking to improve the success of your Sales Development team or need SDRs we would love to help, we offer two options. We can build out your SDR program for your team or utilize our outsourced SDR program. Please schedule a free consultation to learn more!