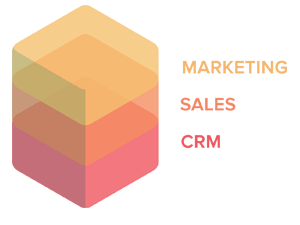 We have seen it happen hundreds of times: a business owner comes to us for advice when they discover that trying to solve one marketing challenge ends up hitting brick walls due to a tangled spiderweb of systems or spreadsheets. Sometimes the problem involves attempting to get more people through a lead generation form, and sometimes the problem is the lack of a CRM tool for unified contact management. So often, business systems grow organically as user needs grow, but when do you stop and take the time to evaluate your marketing stack? Fortunately, HubSpot has created a free solution that leverages HubSpot CRM, HubSpot Marketing, and HubSpot Sales to keep your organization moving forward quickly. Here's 7 ways you can leverage the new HubSpot Growth Stack to supercharge your business results.
1. Seamless Integration
If you're spending time on integrating your marketing stack, then that's time you are not selling. When you have a series of systems that starts with the powerful HubSpot Marketing free edition, rolls through the CRM platform, and then delivers direct customer interaction through HubSpot Marketing, you don't have to waste time making systems speak to one another. Instead, you can look for ways to optimize the user experience — ultimately resulting in higher sales.
2. The Future is Digital
Tracking customers across the web as they interact with your brand can be a real predicament, especially if you're still using old-school techniques. Understanding your customer's behavior across a variety of platforms — mobile, website, email and even social — isn't handled well by some applications. HubSpot engineers have nailed it, allowing your brand to gain top of mind presence in the split second that you have a customer's attention.
3. Optimize for Humans
The days of writing simply for SEO is dead, because search engines are getting too smart for marketers. We leverage HubSpot's Growth Stack to provide transparency into your customer's felt needs in a way that hasn't been possible for non-enterprise scale businesses in the past. Providing valuable and interesting content that your prospects want to engage with is the first step in moving them through the sales funnel. Instead of looking at how to stuff as many keywords as possible into a piece of content, think about creating content that adds joy to your reader. Expand beyond Google – Facebook, Amazon, and YouTube are massive search engines that can be leveraged to creatively deliver product recommendations or comparisons.

4. Flawless Lead Handoffs
It takes time to manually score your leads as they come in, so why not create business rules that will allow software to do the heavy lifting for you? Correctly implementing HubSpot's Growth Stack makes handing off leads from marketing to sales simple and flawless — every time. Marketers can keep the lead funnel full, and your sales can work on converting them to paying customers. Instead of tension between the teams, you'll find that your teams enjoy being able to trust that customers are being nurtured no matter where they are in the sales cycle.
5. Personalized Conversations
Marketing is no longer a "push" business, it is more of a conversation between a lead and a brand. Technology now allows this delicate dance to be a highly personalized journey instead of a single series of messages that may fall flat. Gain a deeper understanding of the path customers tend to take in order to bring them to a decision point at the appropriate time. Meet people where they are in their decision cycle and customize messaging based on their specific needs.
6. Expand Your Team, Digitally
Don't have room in your budget for additional team members? No problem. We can help you integrate additional tech that automates ongoing tasks so you can focus on adding extraordinary value, A/B testing and developing captivating content. HubSpot's Growth Stack natively integrates with Gmail, G Suite, Outlook and Office 365 plus platforms such as Zendesk, PandaDoc and Wistia. Why spending time researching tools and trying to determine if they'll work together? HubSpot has done the difficult work of integration your marketing stack for you.
7. Reduce Frustration, Grow Sales
When your sales, marketing and service teams are able to focus on their core competencies, beautiful things can begin to happen for your business. Remove the frustration that teams feel when creating workarounds that pull time and energy away from their passion for serving customers and growing the business. When you have the right tools in place, data sharing is seamless and reporting becomes much easier. Product creep happens when you've got multiple systems duct-taped together — forcing team members to waste time entering data in multiple systems or hacking together a fix to get the metrics that they need to make good decisions.
Contact Maven to learn how HubSpot's industry-leading digital Growth Stack can be paired with a strategy tailor-made for your business. We work with organizations of all sizes to implement Lead generation strategies that drive deeper customer awareness, engagement and sales. HubSpot now offers their Growth Stack for free, and we can work closely with you to ensure that you are able to focus on what's important: your customers and finding more just like them.