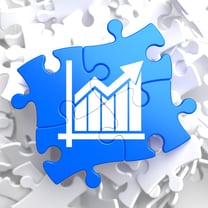 When the average person thinks about the sales process, they picture a hard-core sales person cramming their product or service down an unwilling buyer's throat. If you are in the selling business, you know that in most scenarios, that's not the case.
While there are sales people and cold-calling and other components present in today's selling process, there are other, more strategic ways of accessing buyers and landing new, profitable business. We are talking about inbound sales as opposed to outbound sales. Both have merit and can produce results, but they are completely different animals.
Here are five ways inbound sales differs from outbound sales, and why you should care.
Who Initiates the Sale?
Inbound selling offers the luxury of the buyer coming to you to do business. Outbound selling means that initial contact starts with a sales representative.
When companies hear this, they are likely to throw their hands up and say "Sign me up!" for inbound selling. After all, who doesn't want to sit back and let the buyers come to you? It's not that easy. Inbound selling takes planning up front to get noticed by prospects. Why should they choose to do business with you? Sellers must answer this question in advance and find out how to attract the attention of buyers. Social media and blogging are two powerful ways of creating inbound sales. These are rarely utilized in outbound selling techniques.
Why you should care. Understanding who is initiating the buying process helps you prepare the best way to handle the journey. Aside from inbound and outbound selling being initiated by different parties.....
They Use Different Tools
Outbound selling consists of emails and phone calls to potential clients, fliers touting the product or service, banners and pop up ads, and in-person meetings and demonstrations. Inbound selling uses tools like Hubspot CRM, blogging, SEO, retargeting campaigns, and landing pages offering high value content. The goal of both is to attract customers, but outbound tends to "pull" customers, while inbound is more of a "drop breadcrumbs they will follow" idea.
The downside to traditional outbound tools is that, while they are usually far-reaching, there are many consumers seeing the information who don't fit your buyer profile and aren't interested in your product or service. Inbound selling with tools like the Hubspot sequences tool are more pinpointed to your buyer.
Why you should care. Successful selling dictates you use the best, most efficient tools. Knowing your strategy up front helps get these tools in sales' hands so they can use them to open the most business possible.
Selling Begins At Different Points
The entryway to the buyer's journey starts at different places depending on whether the prospect is being woo'd with an inbound or outbound strategy. With inbound, the process kicks off before the seller realizes it. Maybe the interested prospect reads one of your blog posts or sees a social media announcement that addresses one of their pain points. This then leads them to your website. Hopefully they see an informative eBook or white paper that spurs them to share their information on a Hubspot form. Boom, you have their information! At that point, sales could contact this person to help move them through the sales funnel.
On the other side, outbound usually begins with contact initiated by a sales person. An email, cold call, phone call, or flier mailing are typical ways sales reps spark an outbound sales process.
Why you should care. Your company needs to know when there is an active prospect, and be able to immediately take steps to turn them into a customer.
One Is More Measurable
Sure, outbound selling can be measured in the number of phone calls a rep makes and emails he or she sends in relation to closed business. But, inbound selling offers a plethora of analytics. From social media shares and comments to blog views to high-value downloads, selling success, or lack of, is more readily reviewed and quantified with inbound selling. Using the Hubspot CRM and Marketing Automation Platform makes analytical reviews even easier.
Why you should care. It's imperative for companies to realize the strategies that work, the ones that need tweaking, and the ones that fall flat. Budgeting resources, investing in new ideas, and bottom line revenue depend on it.
They Require Different Skill Sets
Inbound and outbound selling are different paths and those involved need distinct strengths to make them successful. Outbound selling requires strong features and benefits advertising and marketing material and well-versed, determines sales reps to close the deals. Inbound selling calls for an understanding of the ideal buyer, the ability to create targeted content creation, and the commitment to social media management.
Why you should care. Sales executives who have been wildly successful with outbound techniques may falter with inbound selling, and vice versa. Company leaders must make certain to set up coaching and training for the sales team on specific aspects relating to the type of selling required of them.
Closing Thoughts... When it comes to inbound versus outbound selling, it's not an "either, or" equation. Companies may choose one over the other, or both. Depending on your industry, a combination of both selling tactics may bring more business and increased revenue than committing to just one.
Inbound and outbound selling differs in a variety of pertinent points, and companies need to give serious thought to which one to focus on, or how to blend the two for optimum results. Being aware of the contrasts arms business leaders with information they need to make important decisions.
Taking advantage of tools like Hubspot combined with proper marketing material and email templates for outbound, will set your sales team up for success and customers up for a delightful experience.