Gone are the days when Artificial Intelligence (AI) brought to mind scenes from Hollywood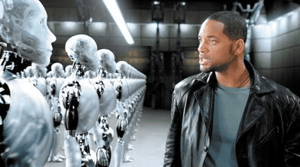 blockbuster classics Minority Report and I, Robot. Instead, AI technologies are rapidly changing the way that marketers and sales teams reach prospects, nurture leads, and inevitably close deals. Contrary to conspiracy beliefs, AI isn't meant to replace various sales positions with machines. Instead, when used properly, AI technologies can and will help sales teams achieve their desired results via the five following benefits.
#1. Create Efficiencies
A recent study found that approximately 40 percent of time spent on mundane sales activities could instead be efficiently automated by existing AI technologies. These tasks include eliminating manual CRM data entry, which is time consuming, error prone, and tedious. Instead of wasting time with manual CRM data entry, AI can be embedded directly into automation software and CRM databases. This simple strategy, combined with using additional AI technologies, can help sales teams increase their leads by up to 50 percent. Not only can AI increase the efficiency with which leads are gathered, but it can also lead to higher quality leads through smarter sales intelligence.
#2. Gain More Sales Intelligence
It isn't a secret that finalizing a sale often hinges on connecting with a customer on a personal level. However, the lesser known fact is that AI can deliver the smarter sales intelligence needed to make those initial conversation-starting personal connections. The question that remains is, how?
AI technologies generate predictions based on how big data analysis for similar leads. Through these insights, unstructured data is translated into actionable intelligence. For example, reactions to social media updates and feedback on reviews can be standardized to provide the insights that sales teams need to begin the conversation with a new prospect. AI can also be used to determine which sales representative is most likely to close a sale by analyzing a wide range of factors, such as technical expertise and the associate's previous closing rate with similar leads. In short, AI delivers the sales intelligence needed to do away with cold calls or emails. Instead, through streamlined processes and an optimized understanding of big data, sales teams will be able to effectively leverage the power of enhanced sales intelligence.
#3. Create Better Sales & Marketing Alignment
No longer is it acceptable or productive for sales and marketing to operate as separate entities. Instead, through tools such as HubSpot Sales, marketing and sales can become properly aligned. Proven AI technologies can help to align sales and marketing by:
Supporting the sales department with relevant customer experiences.

Creating agreed-upon customer profiles and qualified leads.

Designing enhanced customer engagement strategies that are based in analyzed data.

Personalizing and scaling messages to best meet lead preferences.

Establishing more meaningful human interactions.
In short, AI-powered platforms, such as HubSpot, are able to empower both marketers and sales teams by drawing meaningful conclusions from copious amounts of data to create more personal connections with leads and existing customers.
#4. Nurture Your Existing Leads
Simply put AI can and should be used to nurture your existing leads. AI technologies are able to effectively analyze human language, responses, and demographics, as well as countless other data points to create a clear buyer persona. Armed with this knowledge, sales teams can more effectively nurture their existing leads with the type of content, delivery method, and information needed to close the sale. Additionally, with the help of HubSpot, sales teams can enjoy the benefits of machine learning that delivers a predictive lead score. This score is generated for every lead and succinctly tells a sales associate who is most likely to buy. In short, this score can help sales associates more effectively prioritize leads, while simultaneously understanding which leads will need additional time, marketing materials, and product or service information before they are ready to make a purchase.
#5. More Effectively Prospect For New Leads
Instead of relying on trial and error, or cold calls and emails, AI technologies can be used to identify the "who, what, where, when, and why" of prospects. When you not only know what lead to call, but when and how you should approach the conversation, you will inevitably be more successful. Fortunately, AI takes the guesswork out of this sales approach by identifying patterns to determine which prospects are likely to convert into a closed deal. From looking at geography, to analyzing company size and lead job title, AI is the dynamic tool needed to help sales teams effectively prospect for new leads without wasting time on individuals who aren't ready (or will never be ready) to make a purchase.
The Bottom Line: Even In A World Of AI, Human Interaction Still Matters
AI isn't here to replace jobs. Instead, it is here to empower sales professionals. At the end of the day, the fact remains that people buy from people. Whether you are selling SaaS to large corporations or light fixtures to a developer, one thing remains a constant -- sales is both an art form and a science. There is a process that includes prospecting, engaging, negotiating, and of course communicating. AI is the tool needed to provide efficiencies and heightened insights to every stage of the sales process. So, instead of worrying about being replaced by a machine, you should be worried about being replaced by a sales professional that is empowered by artificial intelligence.
If you are interested in learning more about using AI or how AI can impact your sales, please contact me directly or, if you are attending HubSpot's INBOUND 2018 Conference in September, please be sure to register to see my presentation on how AI Can Accelerate your Sales Process.