Consider for a moment that companies who contact leads within the first hour are 7 times as likely to qualify the lead than those who wait just one more hour before initial contact. Shoppers today are accustomed to businesses that respond to their requests promptly and marketing automation can be a fantastic tool for businesses interested in streamlining their marketing efforts and efficiently answering queries.
How does marketing automation work?
A common concern among business professionals is that marketing automation will detract from the personalized experience that they are trying to create with the rest of their business practices, but that does not have to be the case. When marketing automation works correctly, it will involve sending the right email to the right person at the right time.
Many businesses will establish marketing automation sequences to contact visitors during key parts of the buyer's journey. For example, when someone visits the pricing page but leaves without buying anything, it might trigger an email that invites them to download a free case study that invites them to learn more about how the products or services at the company can help them accomplish their goals.
The key to sending the right email will be to personalize them as much as possible. Marketing automation software will help collect key data about the page visitors, including any information they have entered, such as name, company name, or title. Other information can be gathered from how the professional operates on the website, their geographic location, and other insights. Use this information to create an automatically generated, personalized email. The email can address concerns that the person might be having about their company and offer solutions, such a new download, an invitation to a product demo, or the chance to participate in a webinar.
Hubspot has done a great job building their tool that started out as a marketing only tool to what I would now call a very powerful "all-in-one" sales and marketing tool. Hubspot is focused on building a tool that eventually all sales and marketing professionals will want to execute sales and marketing campaigns in.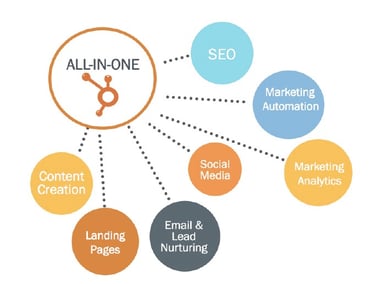 Does every company need marketing automation?
Marketing automation works best when the company has a high enough stream of website visitors so that they can monitor the actions of people on their website and gather information about who they are and what they might be looking for as they browse.
Here are a few factors that should be considered before investing in marketing automation software.
1.) Does your website receive regular, organic visitors that are turning into leads?
The website should not only be receiving regular traffic, but there should also be a steady stream of visitors who provide the brand with information about themselves, typically through opt-in forms, that can be properly counted as leads. The behaviors of the leads should be tracked at each touchpoint throughout the website so that an accurate picture can be painted about what they might be seeking. This is the information that is needed to produce marketing automation emails that still have enough of a personalization side that customers appreciate their content.
2.) Are the marketing and sales team on the same page?
The entire purpose of the marketing automation process is to help alleviate some of the pressure on the marketing and sales teams to contact every potential lead within a reasonable time frame. In order to do this successfully, however, both teams must be on the same side about what types of communication should be coming from each department. There should also be a well-outlined digital marketing and content strategy that describes the communication and goals for each stage of the buyer's journey. When everyone is on the same page about the marketing and sales plan, it will be easier to see if marketing automation software can help with communication at certain points of the sales process and when these emails should ideally be sent.
3.) Does the sales team feel overwhelmed?
Marketing automation can be a wonderful asset for those in sales when they struggle to keep up with the number of qualified organic leads that the marketing teams are passing along to them. The system allows them to make rapid and efficient contact in response to certain actions on the website. If the sales team feels as though they are performing fine with the existing leads, however, then bring in marketing automation software will do little good and can be a waste of valuable resources.
Marketing automation software gives brands the power to combine personalization and rapid response with high numbers of visitors and organic leads. It is a wonderful tool for competing in the fast-paced world of modern digital marketing. Those considering this software should carefully consider how well it fits with their goals and whether or not the organization will benefit from its implementation.
Want to know more? You should ask us… we're in the know! We're also a Hubspot Sales Partner focused on helping our clients to increase sales through better lead generation.